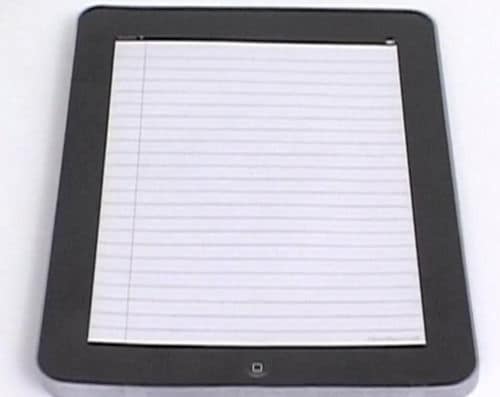 Introducing the world's cheapest iPad, better known as the iNotepad, for a low price of only $13.50.  That's right, only $13.50!!  Now you can look just as cool as the rich kids at a fraction of the cost.
The iNotepad is perfect for storing messages, pictures, words and much more.  You name it, the iNotepad does it!  The iNotepad is super easy to use and boots up instantly.  Billions of people around the world are familiar with most of its features and the thousands of applications that are currently available.
The iNotepad features a crisp 9.7 inch, super high-resolution paper display which is extremely light weight and can be carried with ease.  The iNotepad features Wi-Fi-less connectivity, which makes it easy to connect with your ideas regardless of your location and it's guaranteed never to crash and always boot up.  Another cool feature of the iNotepad is the fact that it never requires batteries, so you don't have to worry about down time when there is no power or when you are travelling without the proper adaptor.
You can pick up an iNotepad here for only $13.50.