Its been exactly six months since I started my Invisalign orthodontic treatment. My treatment is predicted to be 18 months long and time seems to be flying by pretty fast. But before I go any further, I'll briefly talk about what Invisalign is and how it works. I'll also be discussing the pros and cons of the Invisalign treatment.
Basically, it's an adults dream come true when it comes to straightening teeth. No more ugly braces and wires for people to see! Your orthodontist will determine the length of your treatment and how the teeth will be shifted efficiently into the new position. You will get a series of clear aligners that you must wear 21 to 22 hours a day. Each aligner you wear plays a vital role in applying a certain amount of tension/pressure to the teeth so that the next aligner will fit properly. Pressure increases with every new aligner, which is slowly breaking the bone under the teeth so they are able to move. The bone that is being broken down does not hurt that much. Your teeth will be a little sore for a few days with every aligner, but it's nothing like getting smoked in the jaw with a baseball bat.
For my treatment, I have to wear 17 aligners on the bottom teeth and 41 on the top row of teeth. After the initial six weeks of treatment, the orthodontist will glue these 'studs' to your teeth which assist in rotating the teeth more efficiently. I have nine 'studs' glued but that number will be different for others.
Initial Treatment:
The first day I put them on, I had a slight headache. All that pressure on my teeth really felt uncomfortable. As the hours passed by, it got more and more annoying. I literally wanted to rip my teeth out of my mouth. I was just walking around the house trying to keep busy and ignore it. Taking it out the next day to brush and eat was also not very fun. It hurt a lot to take them out and it wasn't all that easy to remove them. Putting the aligners back in was much more simple than taking them out. Besides the sore teeth, you have to deal with the weird speech. When I was talking, I actually had to focus on how I was talking. My mouth felt dry and I had a lisp. I was very self conscious of it but the speech will adjust as you get used to the aligners. Although I thought it would be impossible to get used to all this, I assure you that you will get used to it. I've been doing it for six months, and it gets much easier, I promise.
Now that I'm used to the aligners, there is no more lisp. Every time you put in a new aligner tray, the teeth will be sore a little bit for maybe 2 days. The sore teeth are not that bad at all to be honest. Just the initial one seemed to be bad but maybe that was because I did not know what to expect when the treatment started.
Over the six months, I've noticed lots of gaps between my teeth develop. This is a good thing! It means that the aligners are doing their job and I'm doing my job in terms of wearing them for 21-22 hours per day. Every time I eat, I remove the aligner. Your orthodontist will provide you with at least 2 plastic cases to store your aligners. I hate carrying stuff around, so I just use a paper towel when I go out to a restaurant. Make sure to carry floss around with you. With all these new gaps being created, lots of food is going to get stuck between the teeth. And speaking of gaps, here are a few progress pictures from my personal treatment.
This picture here is of my upper teeth before my treatment started. There is crowding in the back and as you can see, not very straight in the front.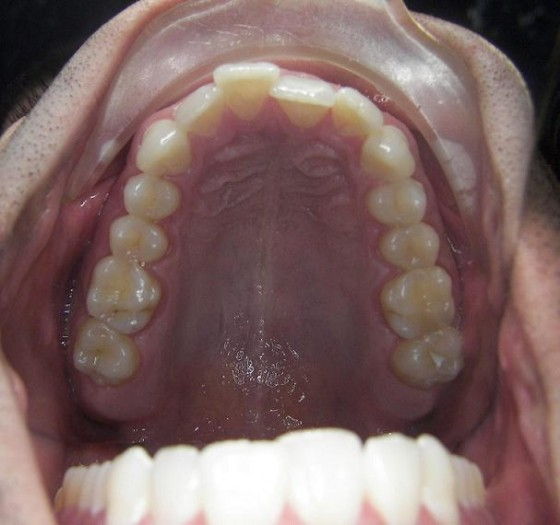 This picture below is also my upper teeth but six months into my treatment. Notice all the gaps in the back? Compare with the picture above. This is a good sign. Room is being created in the back teeth so the crooked teeth in the front will have room to move back into place. The front teeth probably won't start to move for at least another 10-12 weeks from now.  In this picture, you will also notice the 'studs' on the outside of some of the teeth which was mentioned earlier.
Pros:
The aligners are almost invisible. Most people I talk to have no idea that I have Invisalign.
Removable: Unlike traditional braces, you can remove these bad boys. So if you want to eat food that would not be allowed with the traditional braces treatment, you can go ahead and do it with Invisalign. Just make sure to eat it quickly so you can still wear the aligner for 21-22 hours. Popcorn, bubble gum, gummy bears, etc. All these can be eaten but make sure to floss afterward.
You can keep track of your progress. Since all the aligners are numbered, you can do a countdown to the day when you have that perfect smile.
Bang for the buck: In many cases, this is faster treatment method as compared to traditional braces.
Adult Friendly: One word, invisible! The ideal treatment for adults. Doesn't matter what industry you work in, this product is flexible to work with your lifestyle unless you eat for a living.
No More Junk Food: Because you have to wear the aligners for 21-22 hours, there is not much time for snacking. A good way to reduce the unnecessary caloric intake. It's also recommended that you stay away from sugary drinks. You don't want sugary water trapped between the teeth and the aligner. (If you must drink soda pop and such, make sure to rinse out your mouth after you finish the drink)
Oral Hygiene: It is recommended that you brush and floss after every meal. This gets you in the habit of always keeping your teeth nice and clean.
Cons:
Removable: Although it's good in terms of eating what you want, just make sure you don't lose them. I think the orthodontist will charge you a $100 to replace an aligner.
Schedule: You have to wear the aligners for 21-22 hours per day. Get used to keeping track of time.
I think that's about it for now. If there is anything else you want to know, leave a comment and I'll get back to you. I'll do another post regarding this as my treatment nears completion. I highly recommend this not only for adults but also for teenagers. Six months into the treatment, and I'm very satisfied with the results so far.  I still have another 12 months to go.  If you are in the Vancouver area of British Columbia, I highly recommend Dr. Sam Daher. He is a premier provider of Invisalign and trains many of the orthodontists in the Vancouver area as well as giving speeches at conventions regarding the Invisalign technology.