I'm a long time fan of the Hitman games, and a few years ago when I found out that there was a Hitman movie in the works, I was slightly excited. I thought that maybe… just maybe, they wouldn't fuck it up too badly. Unfortunately, as we all know… it was a steaming pile of crap, one that not even the likes of Timothy Olyphant could save.
Fast forward to today, and we still don't have a well done feature length Hitman movie starring, say… oh, I don't know… David Bateson. No, that's yet to happen, but what we do have is a short fan made Hitman video that was sponsored by both IO Interactive and Square Enix. Even better, is that the film is absolutely phenomenal. As I think you'll agree, the lead actor – Kevin Burke – is a dead ringer for Agent 47.
Official Hitman Fan Video
I think what I enjoyed about this most was that, much like the actual Hitman games, this fan video doesn't take itself too seriously. When you've got a giant, muscular, bald headed assassin with a tattoo on the back of his big shiny head, well… I don't think you can try and take yourself too seriously without looking just a little bit pretentious  Thankfully, director Joe Fidler seemed to strike just the right balance of serious action, and dark humored comedy, like when Agent 47 changes into his victims clothes, and his old clothes instantly appear neatly folded on top of the dead guy. It's just like the game, and I think it was a great touch.
Video Highlights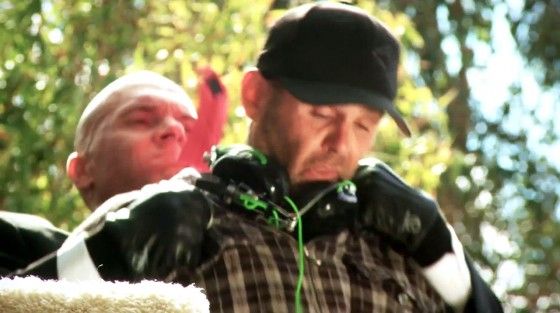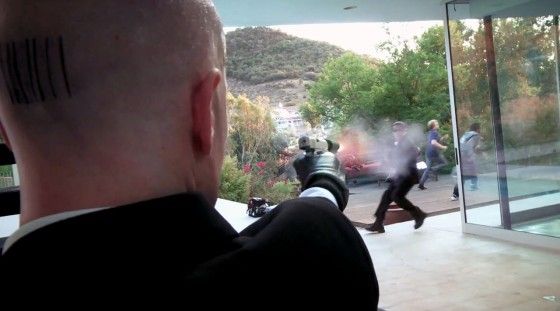 More Freddiew
As you may have noticed, this video was created by freddiew, the mastermind behind, well… a ton of other awesome videos like this. He's a bit of a household name in the world of YouTube, and before watching this, I really had no idea that he produced content for Rocket Jump – a site that features all sorts of well produced video game fan videos. If you have a few minutes to spare, I highly recommend heading over there and watching this great Assassin's Creed 3 video. It takes a minute to heat up, but when it does… awesome.