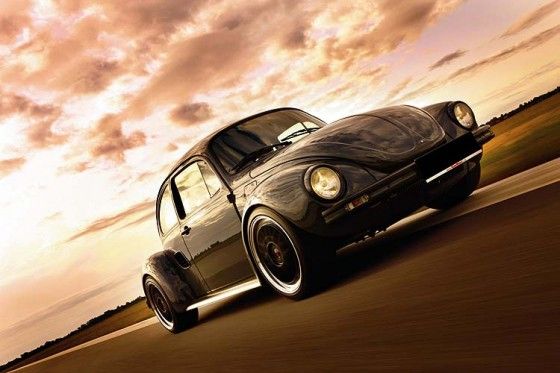 The cute little Herbie bug car is not so sweet anymore thanks to this creation by Austrian shop owner, Siegfried Rudolf, who owns CarMaxx. The shop specializes in restoring two popular German cars, Porsches and Volkswagens.
Rudolf got the idea to slap a Porsche Boxster engine into a 1973 VW Beetle when he noticed how the two cars had a very similar wheelbase. In order to mate the two different cars together, the VW Beetle shell was custom fitted to go on the Porsche Boxster's chassis. The fenders on the VW Beetle had to be modified in order to fit the 18-inch rims and the adjustable suspension. As for the interior, the door panels are from the VW Beetle while the dashboard is from the Porsche Boxster.
The new and improved Porsche Boxster Beetle puts down 270 horsepower and is pretty much considered a sleeper. With the Porsche chassis and new suspension, this is probably one of the best handling Beetle's around.
[Source: Bugster]