We've all been there. The consequences we have to deal with after a night of hardcore drinking and getting completely thrashed. No, I'm not referring to that tranny you woke up next to. I'm talking about that bad-ass headache, nausea, vertigo, thirst, and wondering what the hell happened the night before.
Hangover Joe's Get Up & Go™ may not help you remember the events that took place the previous night but it will help with all the other symptoms associated with a hangover. The product is patent pending and was formulated by a chemist who is apparently an expert in this field. A 2-ounce shot of the this stuff has about as much caffeine as one cup of coffee, antioxidants, select amino acids, B vitamins, and natural herbs which are specially engineered for maximum relief of hangover symptoms.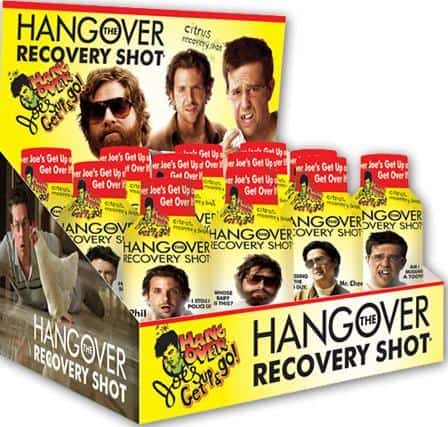 Hangover Joe's has also recently signed an exclusive licensing agreement with Warner Bros. Consumer Products to manufacture and distribute The Hangover recovery shot. Under the agreement with Warner Bros., the product will be sold featuring images of one of the movie's cast member on each bottle. The Limited Edition shots will feature Alan, Dough, Phil, Stu, Mr. Chow, and the tiger for those who are interested in collecting movie memorabilia items.
The Unfinished Man team has not tried this product yet but I'm sure our writers, Gina and Chad, have already ordered a box or two of these recovery shots.