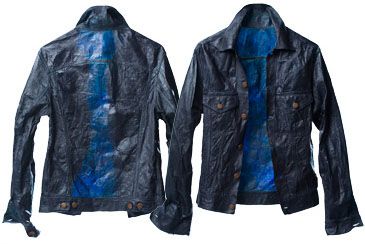 (Photos: Bio-Couture)
It's only in the last decade or so that new clothing fibers (such as bamboo) have been gaining prominence in the world of fashion and clothing design, and now a UK based designer has taken this one step further with a new process used to generate clothing from bacterial cellulose. Yes, the clothes really are grown in large vats, and yes, they look creepy — almost like the skin of a decrepit old person.
The process, created by Susan Lee of the School of Fashion & Textiles at Central Saint Martins in London, allows for sheets of cellulose to be grown. The sheets can then be overlaid on top of patterns and fused together while wet, or sewn together when dry. The end resulting being a material that looks like human skin soaked in tea, and that's really not too far from the truth. The material is made using yeast, bacteria, and… sweetened green tea.
The good news is that the material can be stained using a number of fruit and vegetable dyes, so you can use indigo and achieve that Canadian Tuxedo look without actually wearing denim.