Decorating a college dorm room or new apartment can entice overspending, even on essentials. Actually… especially on essentials. According to the National Retail Federation, the average about-to-go-away-from-home-for-the-first time young person spends an average of $800 on clothes and dorm room furnishings.
For example, "color-coordinated" furnishings at some big box stores (um, Target!) encourage the dorm-room buyer of essential extra-long sheets to pick up coordinating lamps, comforters, throw pillows, carpets, curtains, robe, or bath towels… because when will the willing victim – sorry, buyer – see everything color-matched again?
Whoa!
Just say no! Stop!
The buyer's budget dictates whether $800 is a reasonable sum to make these sorts of purchases. But $800 is also a car down-payment, outright purchase of a carefully selected used car or motorbike, or living room furniture!
It's possible to limit spending on essentials, such as dorm bedding, and use (or save) the savings for something else. Because that's the thing about life after school… there's always another necessity, trust me.
Spend vs. thrifty
Research from BIGresearch say that more young people are making careful spending choices. For example, it's reasonable to think through even the "essential" purchase of XL twin sheets necessary at most colleges and universities.
Let's say the buyer chooses a fabulous pair of $180 high thread-count Egyptian cotton sheets for his dorm room. They fit the bed designed for the world's tallest basketball players, but the kid sleeping in them every night doesn't particularly care if they're the softest sheets on the planet; he's happy with the sheets he found here.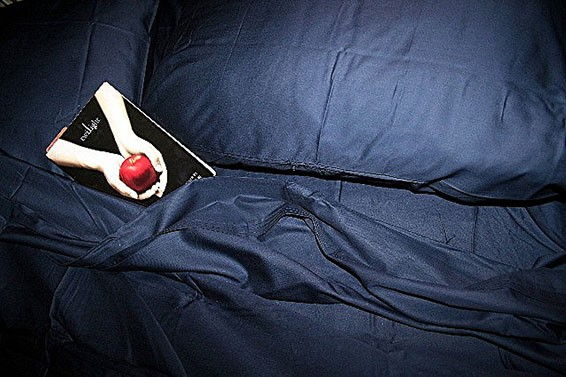 When the sheet-poor owner decides to move out of his dorm room next year, they no longer fit the bed in a new off-campus apartment. He tried using them, because they're still in good condition. But tucking the sheets into a mattress designed for a person of average height doesn't work. These very soft sheets don't stay tucked in for long – they slide all over the place – and the bare mattress is scratchy, so he gave them away to a friend for a retro toga party.
Minimalism
Let's say a guy shows up with a U-Haul full of stuff for his new dorm room. He's got all the stuff he imagines he'll need for the next four years. Parents and siblings help him to carry things up the stairs for several hours. Everyone looks unhappy, but Guy is going to college.
In comparison, an attractive, unsweaty, fit roommate shows up with a pair of fresh new sheets and a small duffel bag. He's smiling because he didn't need to rent a U-Haul or lug heavy boxes up four flights of stairs into his room. And he can buy a new tennis racquet or iPod with the money he saved.
Bottom-line
Extra-expensive, e.g. silk sheets, are nice, but they're a luxury. Most people just want fresh, new, clean sheets on the bed. Although many want a certain color, others like basic white or cream colors that won't conflict with a varsity bed throw or a roommate's color scheme. You can still find The Perfect Rug without spending obscene amounts of money, trust me.
Now, if you fit into the latter category, good for you. You're going to save a lot of money… money you can use for something more useful for exciting. If you just can't give up on the particulars, then fair enough, but be prepared to spend a whole lot more and I promise you, absolutely no one is going to notice.
No, not even that beautiful woman you just met at the bar.