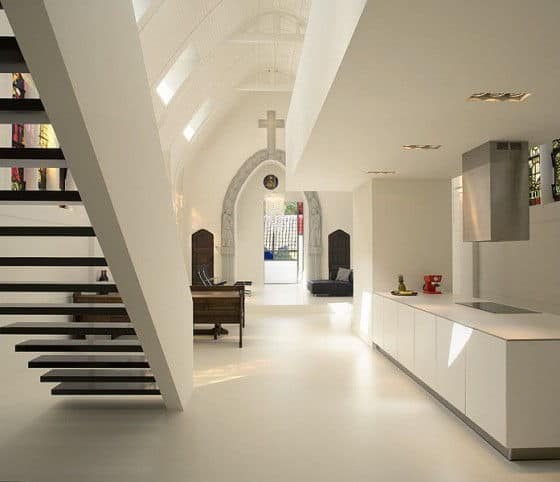 Years ago I decided that if I ever opened a strip club, it would be Church themed. I can picture it perfectly; row upon row of people watching "nuns" perform feats of acrobatic insanity on stage, while "priests" and other "nuns" serve drinks. Hell, I would even keep the confession booth. Forgive me father, for I have sinned. But this is a story for another post, and what I'm showing you today is a chapel in the Netherlands that's been converted into an absolutely stunning house.
This residence was designed by Zecc, and contracted out for construction to Thesis Bouw Nieuwegein. Most of the space is open, bright, and modern, while retaining many of the characters of the original chapel. The intricate stone archway and cross are still clearly visible above the entrance and spell immediate doom for any heathens who enter.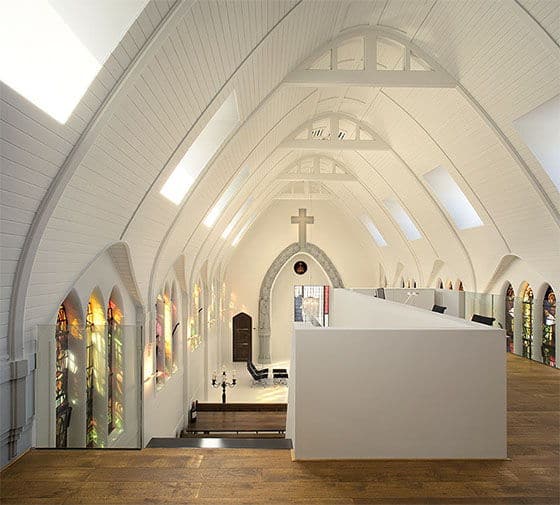 What I most like about this chapel conversion is that the architects chose to retain much of the original aesthetic, including the stained glass windows. The designers chose to add extra skylights to bring in more soft diffused light during the day.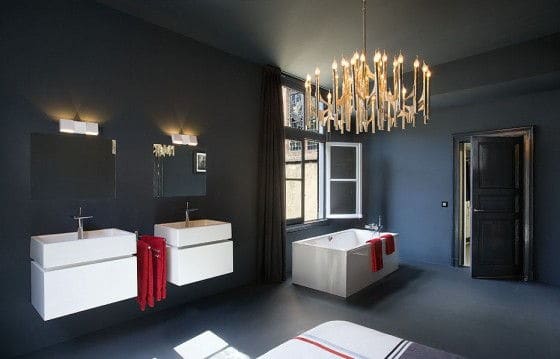 This is the chapel's bedroom and features a color scheme that's substantially darker than the rest of the living space. I like how the white sink and bathtub contrast against the charcoal colored paint. Also, the red towels contrasting against the white reminds me of the Assassin's Creed series. Assassin's Creed is awesome, and that means that this space is also awesome by proxy.
You'll notice in the first picture that the designers chose to keep the original church pews and use them for seating in the dining area – super cool. The stained glass windows are also original and cast interesting light patterns on the floor, saving the owners from having to install a day-time disco light.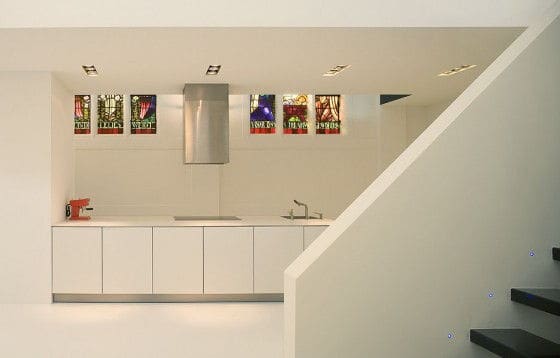 This last shot shows the kitchen, which is stark and minimalist like the majority of the other rooms. The stained glass windows and nondescript kitchen appliance helps add a splash of color.
If you fancy the look of chapel to home conversions, head over to the official Zecc website to see the other church related conversions they've designed. They seem like a talented architectural firm, but to me, their real test will be whether they can create the church themed strip club I've always dreamed of.