I've always been interested in secret societies, clubs, and just about any organization that's obfuscated or well hidden; they have a certain allure and mystery about them that I find simply irresistible. Recently, I was contacted by a fellow suggesting I write about a membership club called FoundersCard. If you haven't heard about it, don't feel too bad. It's invite only, and while it's not exactly a secret society, it's pretty damn close.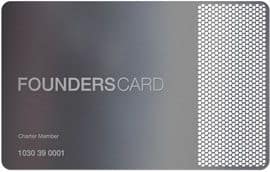 FoundersCard is an invitation only club that offers its members the same deep discounts that are generally reserved for top executives at large companies. Most of the members are entrepreneurs, and in addition to the dazzling array of discounts on everything from hotels to web hosting, the club offers members the opportunity to network with other like minded entrepreneurs all over the world. You may have visions in your head of a simple coupon aggregator, and thankfully that couldn't be further from the truth. All of the deals you'll find on FC are private and reserved solely for FC members.
How FoundersCard works…
The FoundersCard website is organized into a few main categories, each with unique discounts. In the hotel category, you'll find a list of major cities around the world and the respective discounted hotels. Click on a hotel and you'll be presented with the various discount options, usually outlining the various suites or packages. Other sections, such as thelifestyle category, contain deals that can be used anywhere. Big guns such as Indochino and Threadless are on the list, with deep discounts on each. You also get access to other great services, such as free VIP access to Grooveshark. In most cases you simply click a button and the discount is applied automatically. Not bad, right?
How do you Get Access?
Now, you're probably wondering what the catch is. In short, membership is rather expensive. You pay a yearly subscription of $495 to remain a member, and though the discounts are well worth the price of admission, the entry bar is rather high. Fortunately, I have something special that brings the price down to a much more reasonable $295/year, and skips the invitation process. It's still a lot, but if you're a jet setter or business person on the go, the money you save on hotels and flights using FC will far exceed the cost of membership.
To save 40% off the standard FoundersCard rate, click here and enter code FCUMAN12. Using this code ensures that you'll get the lifetime guaranteed annual $295 rate instead of $495 annually.