Meta Description:
Do you need to remove vocals from a song but don't know how? Read on as we explore the best vocals remover in detail.
Introduction:
When using an already recorded song, you must first use a vocals remover to use a song's music for a re-recording, whether to create playbacks, hone your vocal skills, pay homage to a well-known artist, or just for a karaoke performance.
This article will introduce you to different vocal extraction techniques, regardless of the reasons you might want to remove vocals audacity from a song.
So, let us begin by knowing about the newly upgraded video converter.
Part 1: About Wondershare UniConverter 14
Wondershare Uniconverter 14 is a wholesome video converter, editor, recorder, transfer, and compressor. On June 30, 2022, UniConverter 14 brought out its most recent version with the audio editing feature and considerably enhanced the functions for converting, compressing, and other video-related tasks. Wondershare video converter 14 benefits over other video processing applications on the market because it is very user-friendly and can handle a wide range of video and audio operations.

Wondershare UniConverter 14 is an all-in-one program formerly known as Wondershare Video Converter Ultimate. It functions as a central console for all your media conversion requirements because it can extract and rip media from physical (CD and DVD) and web sources and burn media to portable discs.
It can convert videos and other media files into various formats, including MP4, MKV, MP3, FLAC, JPG, and PNG. The application does this by employing a unique engine that converts media files 30 times faster than its competitors without sacrificing quality.
Wondershare UniConverter 14, on the other hand, has additional features that you wouldn't typically associate with a converter, making it more than just a converter.
Part 2: How to Remove Vocals with Wondershare UniConverter 14
The AI-powered vocals remover feature of UniConverter 14 is a tool for eliminating vocals from songs or extracting lyrics and instruments from songs separately. You can quickly obtain voices and karaoke (instrumental track) with the unrestricted use of the video converter.
Learn how can you remove vocals from a song on Windows by following the instructions below.
Step 1: Access the Vocal Remover.
Download and install Wondershare UniConverter 14 for Windows from the Home screen. Then, select the AI Lab Vocal Remover.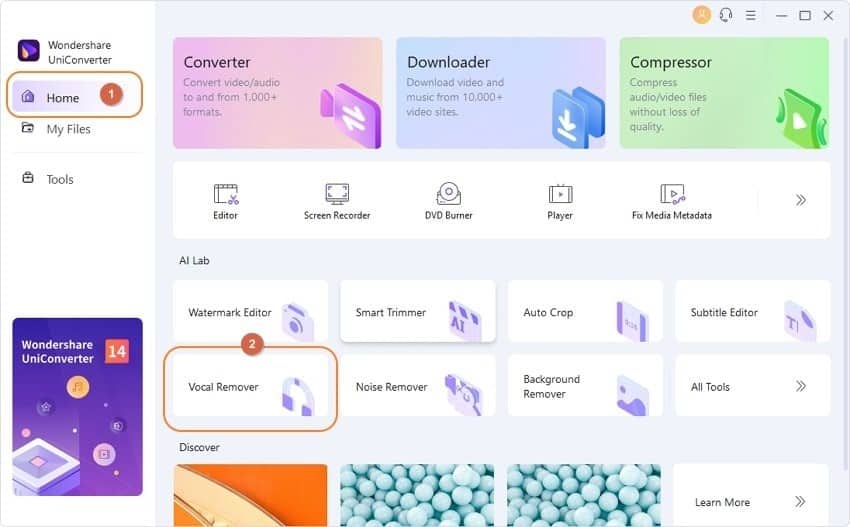 Step 2: Add or Drag a Video or Audio File
Now drag your file right the interface or click the Add Track option to submit the file to remove vocals.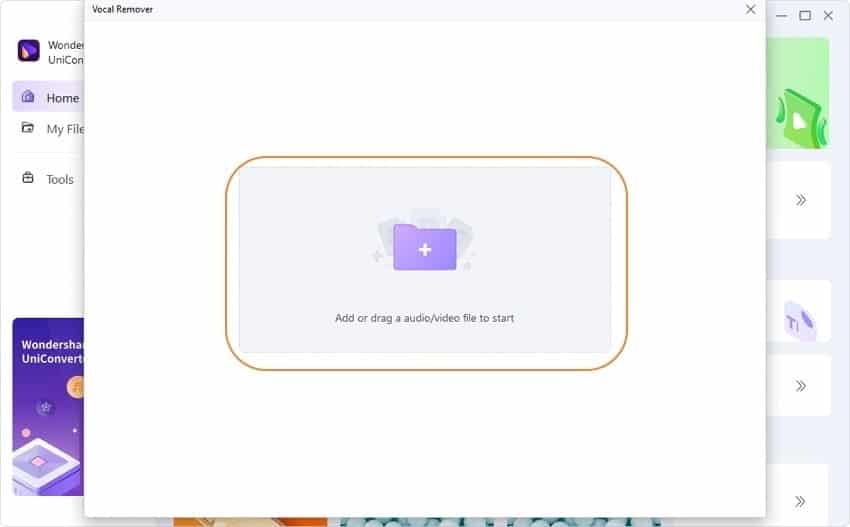 Step 3: Start Analyzing the File to Remove Vocals
After you load the file, the voice remover will use its artificial intelligence to analyze the file and extract the vocals quickly and automatically.
Step 4: Export the Vocal or Karaoke File.
When the analysis is over, you will receive two tracks: vocal and karaoke.
Before choosing the File Location, click the Export button next to the audio tracks to save the karaoke (instrumental track) or vocal file.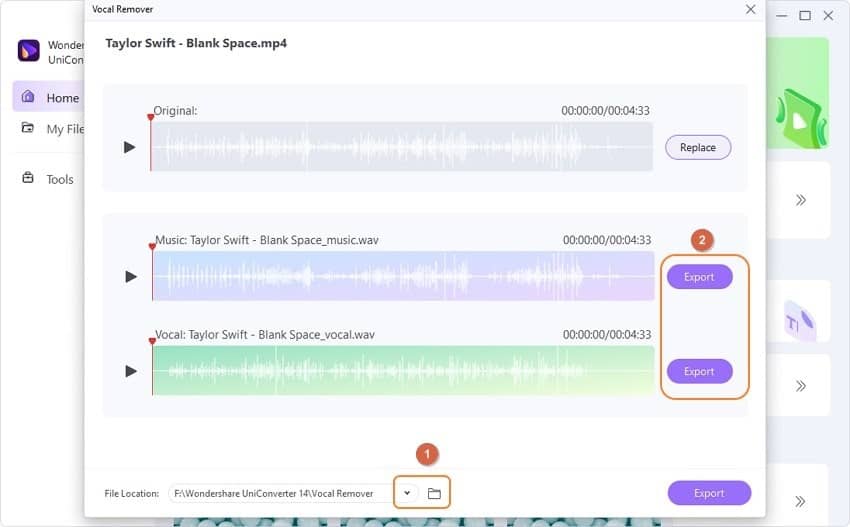 So, wasn't removing vocals from a song using Wondershare video converter 14 easy?
Part 3: Other New Features in UniConverter 14
Wondershare Uniconverter 14 features incredible capabilities that we will be looking at below:
Convert Video
It can convert video/audio/image. It supports 1000+ formats, including MP4 and batch conversion, so you do not need to wait long to convert more and carry out video conversion for many devices.
An anticipated 50% boost in conversion speed.
Full-process GPU acceleration for 4K/8K HDR video, 50% faster speed
Support Wemb and mp4 formats with alpha channel output – fantastic news for video editors.
Support native Mac M1 acceleration
Support for the latest MP4 (CFHD), MOV (HEVC), MKV (AV1), and Webm (VP9/AV1) HEVC (H.265) encoders
The video converter supports GPU acceleration with multiple threads, including Intel, AMD, and NVIDIA.
Compress Video
Audio and video files in bulk in a matter of seconds.
Video size reduction without sacrificing quality
Uncomplicated 8K/4K to 1080P compression.
Compression is very simple because of flexible settings.
Play Video
Smoothly play HD, full HD, and 4K videos.
You can view media files in any format or from any source.
To easily manage the playlist, right-click.
Change the playback speed at will.
Record Video
Record the entire screen or any selected section.
Use an application recorder to capture a particular window.
Using a webcam, record your face on the screen.
Mac and PC audio recording software.
Conclusion:
Hence, now, with the simple steps in this article, you can easily remove vocals and convert videos when needed. Wondershare Uniconverter 14, with its new update, has become one of the most reputable voices removal programs. This tool makes it simple to remove vocals from instrumental and distribute them across various platforms. So, don't wait, click to try Wondershare Uniconverter free!