I love that Australia is a nation of builders. When I recently visited a friend's home in Brisbane, I noticed that the average home there seemed smaller than a family home in the U.S. or Canada—but felt a pang of jealousy at how this home (and all the homes I noticed in my friend's neighborhood) seemed to flow to an amazing deck space, perfect fence, and astounding outdoor gardens. My friend's house, and those around him, seemed so welcoming!
Everything seemed so colorful and in such gorgeous condition, too! For instance, his deck looked brand new. I asked how he managed it—what kind of oils he used to keep the wood looking so great—and his eyes twinkled. My wooden deck in the Northeastern U.S. is in constant need of care and, sadly, the wood never looks as good as my friend's deck. I wondered how expensive it was, and concluded it must've cost him quite a bit of money.
Low-Maintenance Futurewood
He said, "This deck, and everything about my home, is as low-maintenance as I am!" He told me, "This is Futurewood!"
At first, I thought, "That's why it looks so wonderful. Wood that has a name must've been treated with some special process…"
My friend is an engineer by trade, and I couldn't imagine him paying up for specially treated anything. He's almost always traveling to construction sites all over the world. I finally asked, "What is that?"
Recycled and Environmentally Friendly
I learned that Futurewood isn't wood at all. As I reached out to stroke the finely-grained wood deck, however, I couldn't believe this wasn't timber…It looked exactly like wood to my very studied eye. (I love DIY projects and spend many of my free weekends at the lumber store.)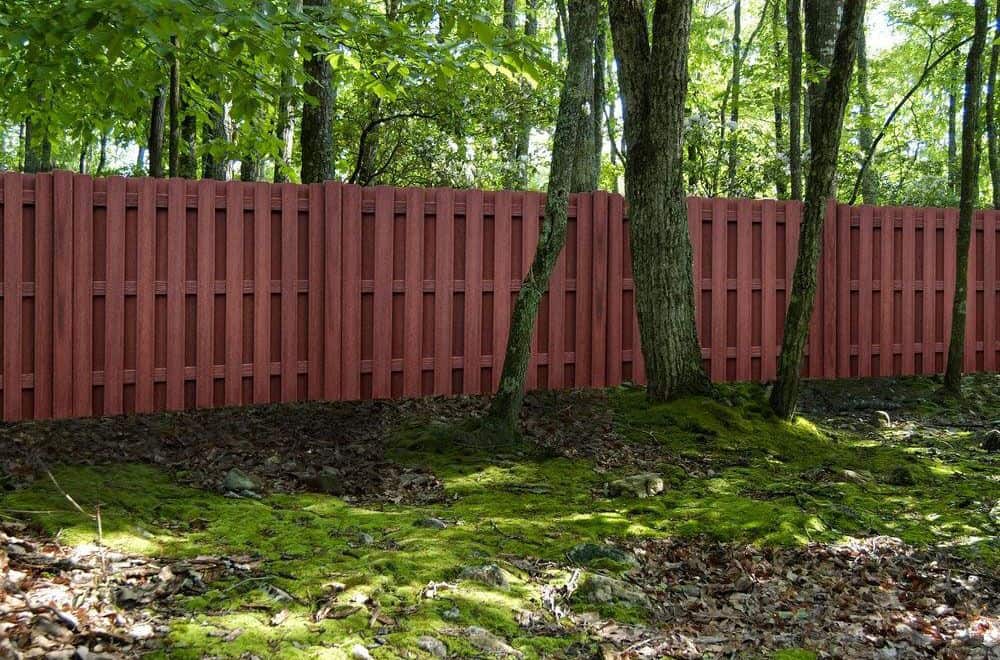 "Nah," he said to me as I looked up with the question "This really isn't wood?" on my lips. "I've traveled all over the world and the forests everywhere are in bad shape, mate. I think some sustainable products make a lot of sense, too, because I don't have time to tinker. I don't have time to replace wood on the deck when it rots because I didn't coat or protect it from our climate. The termites and white ants are fierce, not to mention the risk of warping, sap runs, or splinters. This is recycled cellulose and plastic, and I don't do anything to keep it looking great." Futurewood composite fencing really is the way of the future!
My mouth dropped open a bit as he told me more. "I was waiting for you to ask me about shrimp on the barbee…"
Sustainable, Low-Maintenance Fences and Decks
Enviroslat and a product called CleverDeck decking makes it easy for people like my friend to keep an outdoor space as pristine as this one. He said, "I put up the deck you're standing on with no worries. It was easy and I love to entertain outdoors."
I was thinking, "Yes, and I'd love to replace my grey and ugly-looking wooden deck when I get back home." I searched for Futurewood on my mobile and learned that the company ships to international buyers. I learned that they're supplying SeaWorld at Castaway Bay in Queensland.
That's when I realized there are probably so many more businesses and people who would love to replace an aging building surface, deck, or fence with material that looks just like wood!
Environmental Impact
Of course, real wood is expensive to purchase and maintain, but there's a greater global environmental impact. Forests—especially large bands of forest like the Rain Forest—are the lungs of the planet. When we cut down trees and consume them for lumber, paper, and other products, it takes many years to attempt to replace them. Sadly, it's almost impossible to do that.
For many reasons, using a high quality timber-replacement makes good financial and environmental sense. Some people like me think about the easy upkeep, but others just want to keep timber in the world's forests.
Conclusion
Australia's residents understand the importance of sustainable energy and building products. Readers of Unfinished Man know how passionate we are about the future of sustainable energy and green building. It's not just our vision—it's the law! As many cities (like New York City in the U.S.) implement the conversion of large buildings to green standards, more of us realize the importance of living green today. Live green, invest green, and do your part to make the future hospitable for humans!