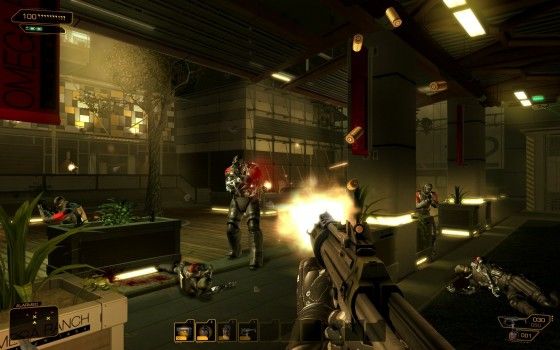 I think that it's safe to say that everyone likes to feel special. A thank you card, a simple word of encouragement, or even a set of new Deus Ex: Human Revolution PC screenshots. PC Gamers were relegated to the back seat of the gaming world for a long time now, and I'm glad that at least a few companies are once again making some effort to court us.
Eidos released these two new screenshots as part of what appears to be a campaign to make PC gamers and (in particular) Deus Ex PC fans realize that the PC version of DE:HR is more than a shoddy port, and instead a game that has received the full love and attention of Eidos Montreal and their partner, Nixxes Software.
Notice the return of the quick inventory bar at the bottom of the screen? This was a staple of the original Deus Ex, and its triumphant return is a PC exclusive. In addition PC gamers also get the "Tetris style" inventory management of the original game, as well as anti-aliasing and a slew of other graphical options.
Deus Ex: Human Revolution arrives this August for PC, Xbox 360, and PS3.