What does it take to get ultimate manly men Daniel Craig and Harrison Ford to team up for a summer blockbuster? Nothing short of a full scale alien invasion, set in 1870s Arizona, complete with dusty western saloon town, murderous Injuns, and gun slinging babe Olivia Wilde. Combine these random elements with a generous helping of talent, and you have the recipe for Cowboys & Aliens. It's okay if you're not sure whether to be confused or excited.
Originally a graphic novel, the premise of the movie is pretty straightforward; aliens come to subjugate Earth, and the only force that can stop them is a cadre of the roughest cowboys the west has ever produced. The official excerpt from the site:
1875. New Mexico Territory. A stranger (Craig) with no memory of his past stumbles into the hard desert town of Absolution. The only hint to his history is a mysterious shackle that encircles one wrist. What he discovers is that the people of Absolution don't welcome strangers, and nobody makes a move on its streets unless ordered to do so by the iron-fisted Colonel Dolarhyde (Ford). It's a town that lives in fear.

But Absolution is about to experience fear it can scarcely comprehend as the desolate city is attacked by marauders from the sky. Screaming down with breathtaking velocity and blinding lights to abduct the helpless one by one, these monsters challenge everything the residents have ever known.

Now, the stranger they rejected is their only hope for salvation. As this gunslinger slowly starts to remember who he is and where he's been, he realizes he holds a secret that could give the town a fighting chance against the alien force. With the help of the elusive traveler Ella (Olivia Wilde), he pulls together a posse comprised of former opponents-townsfolk, Dolarhyde and his boys, outlaws and Apache warriors-all in danger of annihilation. United against a common enemy, they will prepare for an epic showdown for survival.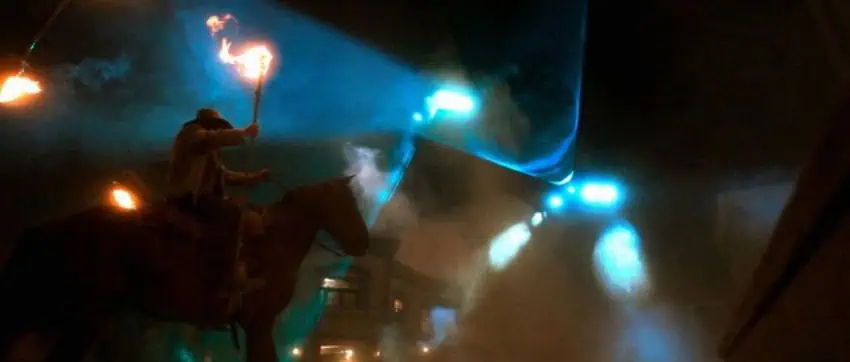 The original comic artwork is beautifully done, and the teaser shows that they've done it justice, but the trailer artfully steps around the appearance of the aliens. Part of me squeals with joy to think of Craig and Harrison leveling six shooters on giant troll like monsters, and part of me cringes in trepidation at how horrible this all could turn out. I'm keeping my fingers crossed- everything I've seen so far points to a hilariously serious alternate reality movie; this absurd story looks like it's being pulled off in style. Check out the trailer and pics below, all courtesy and © 2011 – Universal Pictures.