Our home should be our castle. But for many of us, our homes just aren't secure enough. There's always a chance that some nasty burglar will break in, steal our stuff, and leave, making us feel terrible.
But in this world of exponential technologies, it's not brawn that looks set to protect us. It's geeks, beavering away in Silicon Valley on a range of new products for our home. What follows is a rundown of some of the most exciting home security tech we've seen from the tech industry. Pretty much anything goes, so long as it's designed to protect ourselves and our families. Whatever you're looking for, you should find something that piques your interest here.
Netgear Arlo Smart Home
The Netgear Arlo Smart Home is one of the top wifi security cameras out there. It's rather stylish for a surveillance camera. In fact, it looks as if Steve Jobs himself could have been involved in its construction.
The way it works is like this. You set up as many cameras as you need around your home, usually between one and three. And then you wirelessly connect them to a base station, called a hub. Then you connect your smartphone to the hub via an app, and hey presto, you're up and running.
What's so cool about the Arlo is that you can stream video feeds to your smartphone no matter where you are. The camera, therefore, doubles up as both a security device and a way for you to be Big Brother. Keep an eye on your kids when you're in another room. Or put a camera in the bedroom to make sure that your partner isn't cheating on you when you're out of the house. It's up to you.
It's also important to note that the Arlo comes with night vision and motion detection, which is kind of cool when you think about it. In fact, it's exactly what you'd want if you were trying to catch pesky criminals in the act of stealing all your stuff.
Yale Smarthome Alarm
Yale has been around since heaven-knows-when. But they've recently embraced the smart revolution, moving beyond their more traditional security solutions. The company now has in its product line, a product that acts as a sort of all in one security system for your home. It's got motions sensors. It's got smoke alarms. And it's got keyfob access to detect any criminals who might be bashing their way through your doors and windows.
Like the Arlo, you can turn Yale's alarm system on and off via your smartphone. You can even program burglar-deterring settings. Yale recommends a setting where the upstairs lights turn on if motion is detected in the back garden, even if you're not home.
The Yale package is pretty good value when you consider just how many features it comes with. You even get a touchscreen panel from which you can control the alarm or pre program contact numbers.
August Smart Lock
For years, people have dreamed about getting rid of keys. Keys are so passe in a world of smart technologies. August are doing their best to get rid of keys (sorry Yale) with their new smart lock product. It works a bit like this: you install August's locking mechanism on your door. Then you just download the smart lock app to your smartphone. Both the lock and the phone are connected to the internet, opening up a world of possibilities.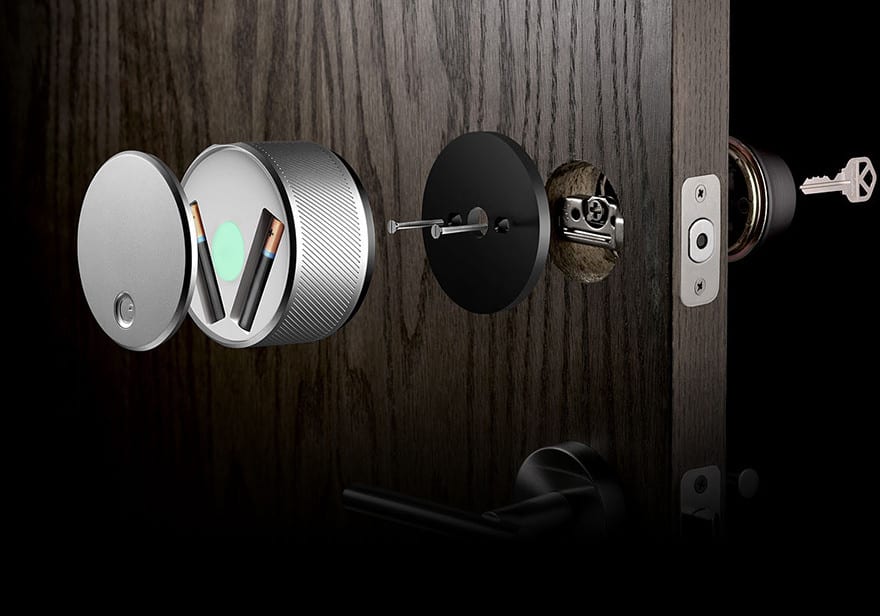 If you're out at the office, but want to grant access to your home remotely, you can. You just tell the app you want to unlock the front door temporarily. This is super helpful if the kids get home early or you want to let the cleaner in.
Installation is usually quick, according to August. And right now they're working on making the technology even more user-friendly.
Nest Cam
It won't surprise you to find out that Google is also muscling its way into the home security market. It's most recent addition, the Nest Cam, looks a lot like a webcam. And the technology works along similar lines to the Arlo system.
But it wouldn't be Google unless there was some sort of ridiculously sophisticated algorithm embedded in the system. And that's exactly what the Nest has. Google promise that the Nest can actually tell the difference between a swaying tree in your garden and a burglar. It's a sort of proto-AI system that heralds the future of smart home security technology.
The Nest video feeds can be uploaded to the cloud for viewing later. And you can pay a small fee for having all that data stored if you so wish.