When it comes to our boys, we want them to be happy. They need their freedom and comfort. No no, I'm not talking about kids; I'm talking about the man's package, his goods, his boys. Not all men prefer to treat their "package" in the same way, some prefer to wear boxers, some wear briefs, and some like boxer briefs… and of course we can't forget about the adventurous guys that like to go commando. In any case, we have to take care of our boys and make sure they're comfortable in the everyday grind.
This is where a small company from Vancouver, Canada comes into the picture, Clifford Soft Goods. Started by Grady Gant in 2011, he "focused on a clean, simple yet effective approach. The seamless sling style construction uses the natural contours of a man's "zone" to create a tailored support, specific to him." This means there is no stitching in the "zone" area and allows more room and keeps your package comfortable.
I'm a cotton underwear man and I find cotton to be very comfortable. Clifford Soft Goods use Rayon from Bamboo in their underwear and I was a bit skeptical as to how they would feel. Right off the bat, I took them out of their very nice packaging and did a feel test with a brand new Calvin Klein cotton underwear. The rayon feels very smooth to the touch, where cotton was a bit rough. When I put them on, I was pleasantly surprised by how comfortable the bamboo underwear was. It was almost as if I was wearing nothing at all. I got the same support as the Calvin Klein underwear and moving around felt a lot more natural. Even after 20 washes, the feel of the underwear is still the same and as comfortable as the day I first tried them on.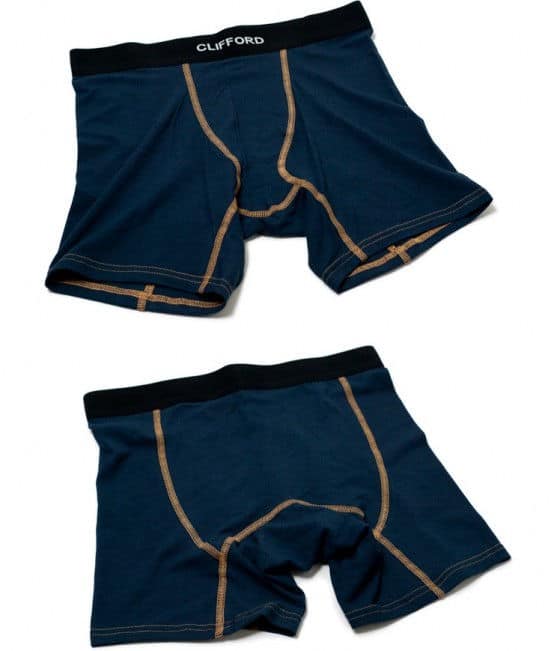 The Clifford Soft Goods underwear material consists of:
66% Rayon from Bamboo
28% Cotton
6% Spandex
Why choose Rayon from Bamboo?? In this new age of sustainability, Bamboo is the most sustainable plant out there. Bamboo trees regenerate every 55 days and require no pesticides from disease or bugs. Bamboo requires little irrigation and is biodegradable.
We at Unfinished Man try to bring every man one step closer to being finished. Although it is a long process, I say give Clifford Soft Goods a try as you will not be disappointed. I would and will buy a few more underwear from them as they have made me a fan of Rayon from Bamboo.  Clifford Soft Goods is currently offering boxer briefs only, and are priced at $28 a pair