I recently went on a trip to Australia for three weeks and in some ways, it was a once-in-a-lifetime trip down under. Why? because the main purpose of the trip for me was to get hitched. It was a life changing trip but unfortunately it was a very low key trip with little traveling involved. I stayed in the Melbourne area and one of the coolest things I did there besides getting married was going to a place called Bundoora during the evening and seeing a kangaroo only a few yards away that was taller than me and more muscular than Arnold Schwarzenegger in his prime.
Hopefully my next trip with the wife will involve a lot of more sight seeing around her native country and having a personal tour guide free of charge is going to be a nice bonus. Now Australia is a pretty huge country and it's a shame it's so far from North America and Europe but it's definitely worth the trip if you can handle the crazy long flight times. I have to wait at least six months if not more before I go back but I have compiled a quick list of some destinations that should be looked at while visiting Australia.
Since my home away from home is Melbourne, we can start off with the Great Ocean Road in the state of Victoria. If you like driving, then this is probably one of the nicest 243 kilometers you'll drive with beautiful scenery all around. The tight, twisty road hugs the coast line with panoramic views of the ocean and cliffs as it makes its way through mild temperate rain forests.
Grampians National Park
While we're still in Victoria and about 175 kilometers north of Warrnambool cafe (which is the official end of the Great Ocean Road) you'll find the majestic Grampians National Park. The 1,672 km² is home to some of the most amazing hikes, features a number of low-angled sandstone ridges, and also happens to be one of the richest Indigenous rock arts sites in south-eastern Australia. The area is also a very popular destination for rock climbing and camping is quite a normal activity as well. Definitely a spot for those who enjoy being in the outdoors and nature.
Great Barrier Reef
The iconic Great Barrier Reef in Queensland is practically a household name and is known of by virtually everyone as well as being synonymous with Australia. The Great Barrier Reef stretches approximately 2,300 kilometers and is home to a vast wealth of unique animals and plant species. The area is quite large with plenty of beautiful scuba diving and snorkeling opportunities. One of the most popular areas is the Whitsunday Islands which offer beautiful waters and stunning aerial and underwater views.
Fraycinet National Park in Tasmania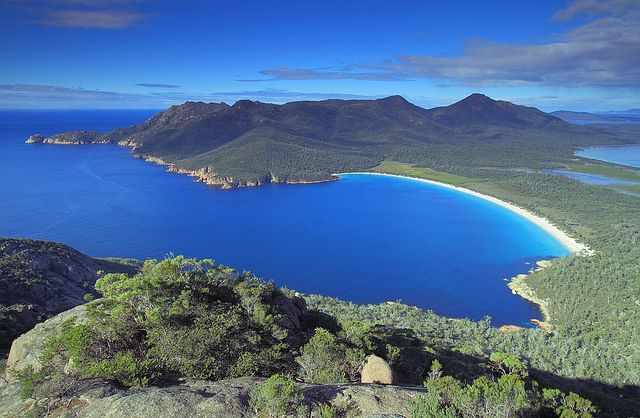 When I was in Melbourne only days ago, I wanted to take my wife to Tasmania for a few days after the wedding but I was told by a few people that it's a boring place with very little to do. I think what they meant was that there isn't much shopping available for my new bride and she would get bored fast. From what I know, Tasmania is a beautiful island off the coast of Australia featuring beautiful landscape. I'm a big fan of nature and the outdoors although I don't stay active as I should. The Fraycinet National Park in Tasmania offers beautiful bays, secluded beaches for swimming, rock pools, and areas for scuba. Other awesome activities include hikes, camping, outdoor theater, guided ranger activities, and beautiful scenic drives.
This is my personal list and Australia has much more to offer than just beautiful nature related activities. Downtown Melbourne is a great place to check out but Sydney is where you go if you really want to go shopping, clubs, and crazy entertainment.