Konstantinos Leoussis debuts their new jewelry line inspired by mythical monsters and creatures.

With heads of Medusa, arrows from Hercules, and the body of a fire-breathing monster, it's a collection with a powerful message and dedication to mythology.
With mystical creatures and monsters from the Ancient Greeks and Romans influencing art for centuries, it's no wonder jewelry brands are weaving it into their latest designs.
KIL NYC's new Teras collection displays a passion for the wonderfully alluring mysteries, reintroducing mythical creatures into modern wearable forms.
"I created Teras to bring imaginary creatures into our world. Each scale is lovingly hand carved, and precious stones are meticulously selected to bring the Minotaur, The Chimera, and The Argus from the pages of old times and into the world of modern jewelry. Our pieces are designed for world-explorers, history lovers, and those who would like to add a bit of eccentricity to their jewelry box." – Konstantinos Leoussis
The monstrous Chimera, Harpies, Minotaurs, Gorgons, and Hydras make up the variety of mythical creatures in the range, all in the form of high-quality rings, necklaces, pendants, and bracelets.
Each creature and design represents different qualities, whether it be strength and protection, the figure of a guardian, or the height of bravery.
Designs from the Teras line are for bold, statemented looks, giving every outfit a daring accessory with every piece intricately crafted by hand.
For celebrating Greek and Roman mythology;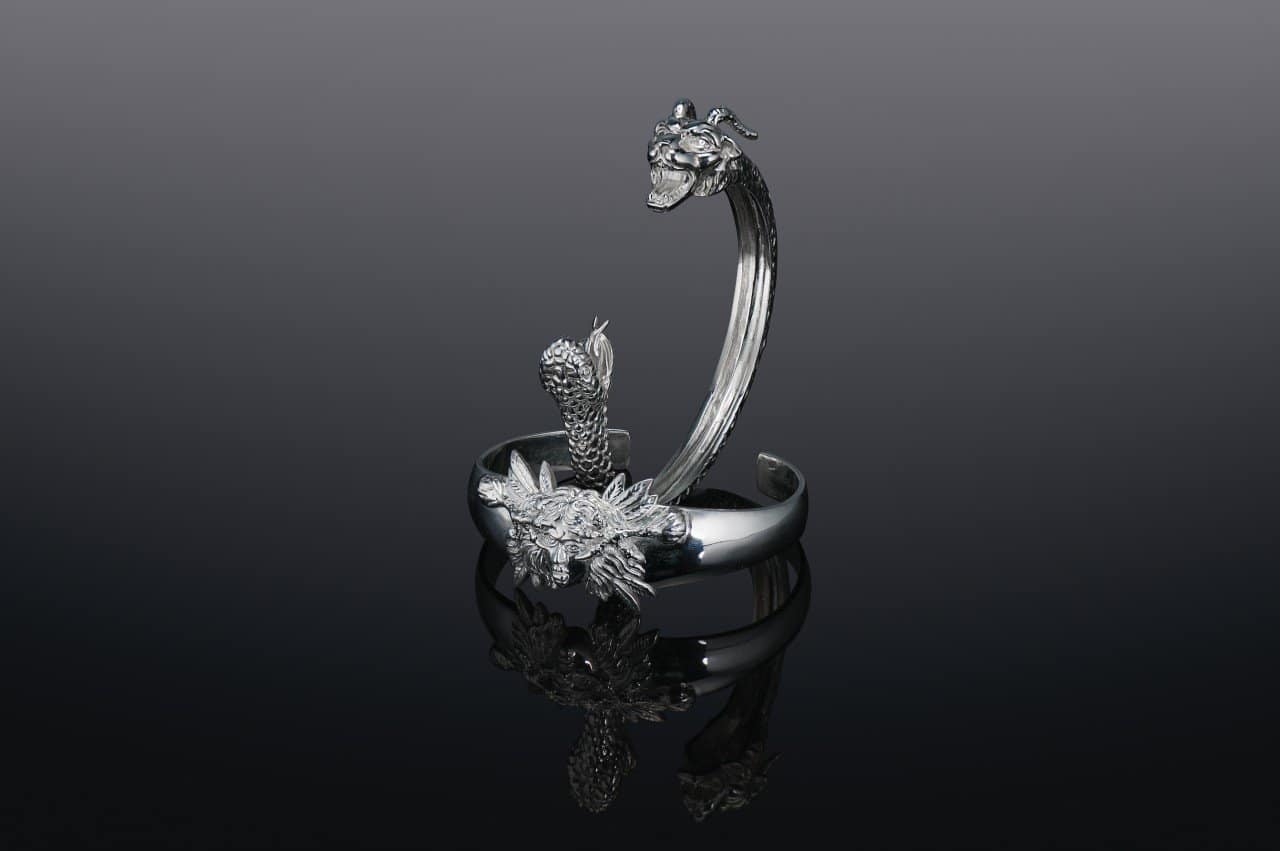 The Medusa pendant ($450) creates a fierce statement with intricate details made entirely hand crafted. Medusa's face is said to be the perfect talisman against the evils in the world; with an aim of giving you the confidence to tackle problems face on.
One of the most iconic creatures from Greek mythology is the Minotaur. Appearing with the head of a bull and the body of a human slain by Perseus, the Minos Ring ($350) is one of the most alluring pieces in the collection.
10% of each sale for the Medusa Pendant and Minos Ring will be donated to Safe Horizon, a charity with the aim to provide support and care for victims of crime and abuse.
KIL N.Y.C's Arrows of Hercules ($300) layered pendant promotes healing and positivity.
Legend has it the arrows were gifts from the God Apollo, used in many battles and feats. KIL N.Y.C explains the pendant represents the mythical story of Hercules slaying his enemy, then dipping the shown arrows into poison to then slay stymphalian birds.
For a darker side of jewelry wearing;
KIL N.Y.C brings the alluring Scaly Serpent Hook ($160) where every individual scale has been perfected to represent a creature from Medusa's hair, or the mysterious serpent tail from the Chimaera.
The Chimaera ring ($350) has been made to show a fire breathing monster from Greek mythology. The intricate design features the head of a lion, the head of a goat, and a serpent's tail.
Or if you're in need of a bold statement male jewelry piece, the Chimaera Cuff ($500) is meticulously hand-designed into the horned lion and attacking serpent. The cuff is adjustable to give a ferocious adjustment if needed.
10% of each Chimaera sale will be donated to The African Wildlife Foundation (https://www.awf.org) to aid in their mission to conserve Africa's animals.
About KIL N.Y.C
The KIL N.Y.C company is fronted by sole designer and creator, Konstantinos Leoussis. Inspired by his travels, world history, and antiques, his jewelry line takes influence from the Stuart and Georgian eras, and in his latest collection, Greek and Roman mythology.
As well as stocking items online, KIL N.Y.C exhibits its unique designs in locations across New York, London, Miami, and Virginia.
Each KIL N.Y.C piece is hand crafted and made to order with a 3-8 week delivery time. This means every customer is able to choose their desired metal and options for gemstone accents. Reclaimed and recycled precious metal options include 14K and 18K gold, as well as sterling silver.
Each piece of jewlry is made in New York City, with all polishing and shipping done locally. KIL NYC uses paper materials for shipping and is carbon negative. Most purchases in the KIL NYC Teras range have a 10% donation to a chosen charity.