I still haven't figured out if this Barbeque Dining Boat is retarded or a great idea. We've all enjoyed a cookout by the water at some point in our lives while looking out at the lake as boaters pass by and had the urge to eat out there on the lake.
Many boats would not accommodate that but this BBQ dining "boat" features a 24-inch stainless steel charcoal grill surrounded by an ABS (thermoplastic) table while providing a seating area for up to 10 people. The table also features 10 place settings which have a recessed plate holder, a silverware tray, and a ridiculous amount of beverage holders. There are also six handy storage compartments underneath the seats for storage of food, drinks, and supplies.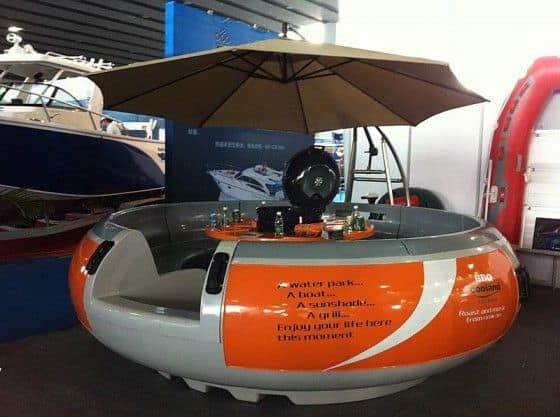 The boat features a 30 Watt electric trolling motor allowing the craft to reach speeds of 2.5mph on calm waters. The motor runs off of four rechargeable batteries which on a 10-hour charge can provide up to eight hours of continuous use. The boat also features a retractable nylon umbrella to block out the sun. The hull of the boat is made out of polyethylene and the entire setup weighs in at 1,102 pounds.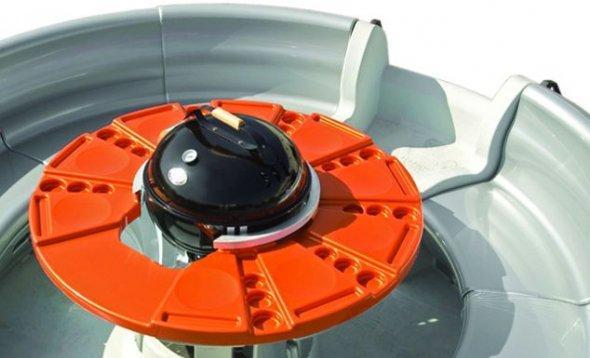 I guess the reason why I'm not a fan of this is the $50,000 price tag! For that kind of money, I can get a decent sized boat, have my own BBQ via a portable gas grill, and I can actually go boating at normal speeds.