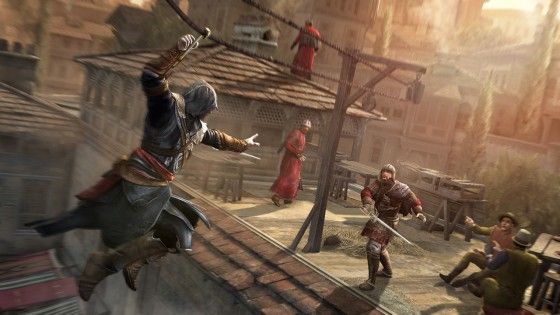 I think a person would be hard pressed to find someone who doesn't appreciate the acrobatic insanity and pure sword-play bliss of the Assassins Creed franchise. I asked around, and out of the two people I asked (one being myself, and the other being a friend who loves AC games) both gave a solid  two thumbs up when I mentioned these new screenshots of Assassins Creed: Revelations, the upcoming sequel to Assassins Creed: Brotherhood.
The screenshot above shows a now shadowy-looking Ezio leaping at a soldier, hidden blade extended. If these three shots are any sign of the game's visuals, then color me impressed. I can't say exactly what it is, but I feel that the lighting looks improved, if nothing else. Also, for those of us that preferred playing as Altair from the original Assassins Creed, you can once again step into his boots in this new chapter in the AC saga. I've read that players can play as both Altair AND Ezio, though in what capacity I couldn't say.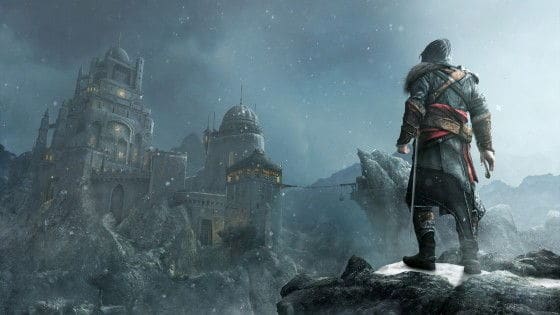 Once again, I find that the lighting looks much improved and far more dramatic. This shot looks like art found on the cover of fantasy novels. The dark tone of Ezio's new clothes lend themselves well to this scene in particular.
I wonder what effect the falling snow will have on Ezio's ability to climb. Are his hands strong enough as is, or will there be gadgets and enhancements to allow the player to traverse snowy falls? There are plenty of possibilities for new game-play mechanics here.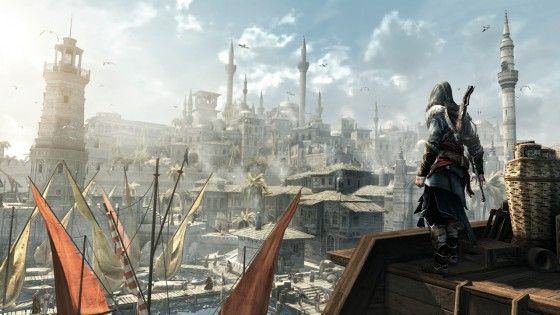 I can't say why exactly, but this last shot reminds me of the pier in San Fransisco. I think it has something to do with the lighting and blue sky. I'm glad to see the return of the crossbow, as that was one of my favorite weapons in Brotherhood.
Assassins Creed: Brother is scheduled for release this November for PC, Xbox 360, and PS3.