I know, this is the second post in however many days where I've said that I don't usually write about women's fashion, but as with the Alien inspired corset, this is just too cool to pass up.
What you're looking at is a women's wedge pump, but with a twist… this one is made almost entirely from a 3D printed nylon material. Continuum – the company that designed the "strvct" shoe – says that it's strong, light, and of course, pretty damn cool looking. Most importantly, though, is that it's actually wearable too.
3D Printed "Strvct" Shoe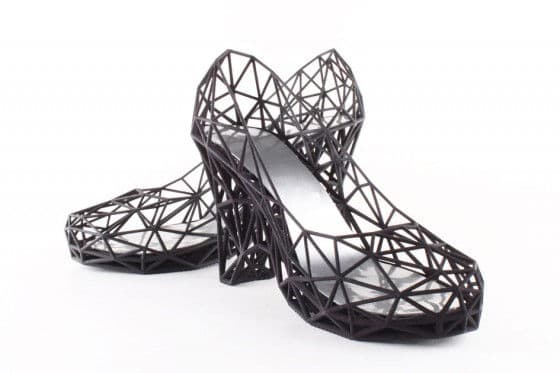 This is the pump version of the shoe, which comes in a wide range of (admittedly) hideous colors. Were I a woman in the market for such a thing, I would definitely stick with the black and silver variant pictured above. It's about as classy as can be for such a Deus Ex looking shoe.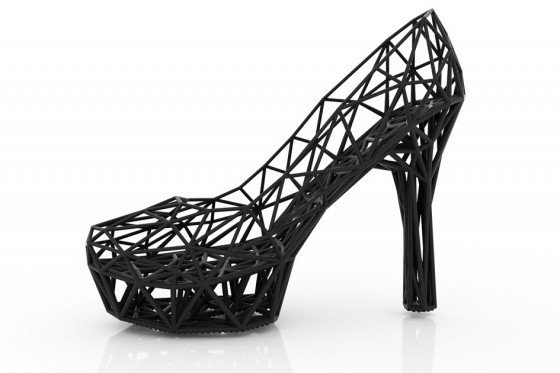 Here we have a stiletto variant of the shoe… the bane of every woman trying to walk with a normal gait. Men are cruel beasts indeed to expect women to wear these, but they really do accentuate a woman's leg muscles.
3D Printed Shoes, The Future?
I admit, this probably isn't the kind of shoe that a person would wear for a run, or when they're biking to work – even if it weren't full of holes – but the concept is sound, and my excitement continues to increase as we see more and more innovations in the world of 3D printing. The industry is quickly maturing to a point where an average person will be able to simply buy an ink cartridge like they would for a regular consumer grade home printer. The difference being that it wouldn't exactly be ink, and would instead be nylon, metal, or a range of other materials – but my point still stands.
3D Printing doesn't simply apply to what some would argue are gimmicky items, like these crazy looking shoes. No, people have come up with all sorts of useful applications, like the 3D printed jaw bone I wrote about a while back. To the woman who was suffering from a massive infection of her jaw, a replacement piece was hardly a gimmick. With a little bit of luck and human ingenuity, we'll continue to see awesome new advancements in this exciting new field.
More on Continuum
If you're interested in learning more about the Strvct shoes, or perhaps even picking up a pair, you're in luck. There's plenty more information at their official website, and the shoes actual retail for $900 USD. They're made to order, so chances are you won't have to worry about stock levels being low. I can't say I would pay such a huge chunk of money for a pair of shoes, but hey, to each their own.