Your shoes can say a lot about your style, as well as how you are as a person. There is a reason why so many people take pride in what they wear on their feet and often take more time deciding what shoes to wear than what clothes to wear.
If you are unsure of which shoes you should own, though, there are definitely a few pairs that should be in every wardrobe. From a pair of comfortable trainers to Timberland boots, here are the shoe staples every man needs.
Chelsea Boots
Chelsea boots are the perfect combination of smart, sophisticated style; without being shoes you can only wear to a formal dinner, a work meeting, or the theater. Chelsea boots are popular due to their versatility.
If you are someone who doesn't want to put too much stock or money into your shoes, Chelsea boots are the only pair you need that you can wear no matter the occasion, formal or casual.
Dress Sneakers
Many people have a wide variety of sneakers in their wardrobe, but there are only three that you need, dress sneakers, casual sneakers, and a pair of high-top sneakers. Dress sneakers are shoes that bridge the gap between ultra-casual and semi-formal.
They will often be in a neutral color such as black, grey, or white, with limited to no patterns. There are a few exceptions, though, Gucci sneakers, for example, but most of the time, a simple pair of leather or suede sneakers can replace dress shoes for most occasions.
Trainers
A good pair of trainers are essential if you do a lot of walking or working out. They are your go-to shoe when you are heading out into nature, going to the mall, or hitting the gym. Once again, a monochrome color is best, but you can own multiple pairs in bright colors.
Nike Zooms, Adidas NMD, and Yeezy Boost 350s are all examples of trainers that are not only incredibly comfortable and functional but also super-stylish and ageless.
Loafers
There are multiple types of dress and formal shoes out there, and if you are someone who finds themselves having to wear them often, you will want a variety. Loafers are another shoe that has the perfect balance between office wear and super formal wear.
They are less formal than an Oxford shoe or a Brogue, yet you can still wear them with a suit or at a semi-formal event with a pair of shorts in the Summer.
Casual Sneakers
A pair of casual sneakers would be something you slip on before you leave the house, and you still want to finish your outfit off nicely. The most popular pairs would have to be low-top Chuck Taylors and Air Force 1's.
The simple colors and very recognizable shapes make them the ideal "everyday sneaker". If you are looking for more of a budget option, the Vans Old Skool sneakers are certainly a brilliant choice and not so hard on the wallet.
High-Top Sneakers
High-top sneakers are essential in the world of streetwear. Jordan 1's, Chuck Taylor's, and Air Force 1's are not only some of the most recognizable sneakers of all time but some of the most popular in history.
Made famous on the basketball court in the 80s, these shoes have withstood the test of time and have only evolved, with dozens of colorways patterns and designs available.
Boots
Combat or utility boots are some of the best shoes you can wear in Winter. This is especially true if you live somewhere that has constant snow or rain throughout the cold months, and sneakers just won't cut it.
Two of the biggest names in the game have to be Dr. Marten and Red Wing. Dr. Martens give that super-stylish grunge look, while Red Wings are built for the outdoors but don't look like work boots in the slightest.
Dress Boot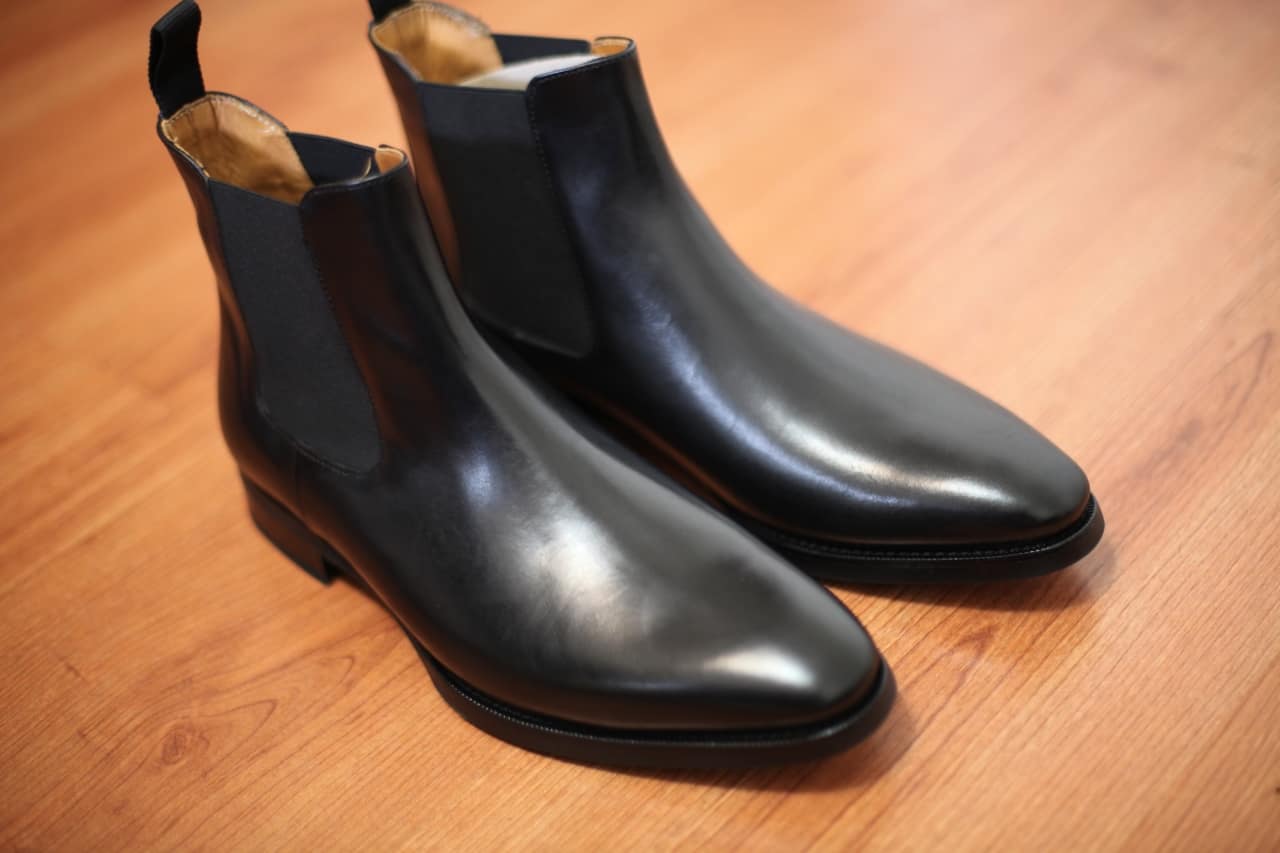 On the other end of the spectrum, a dress boot is perfect for those who want to have more of a rough and rugged look. They still fit in perfectly with a suit or formal attire and can also be dressed down for less formal events.
While they often don't have the same versatility as utility or combat boots, they make up for it by being uber-stylish and coming in a variety of styles and colors that will suit anyone's taste.
Oxford's
Oxford's are probably the most recognizable dress shoes out there. They have a sophisticated shape, are perfect for any formal situation, and the clean, but strong lines provide the cherry on top.
There are many varieties of Oxford shoes, but the best ones are the simple dark brown or black leather. They are the easiest to wear, and you will most likely only need one pair of them.
Boat Shoes
Finally, you might want to get a pair of boat shoes. They aren't just for an afternoon on a yacht either; they are great Summer shoes that can be worn in place of sneakers if you want to add something different to your outfit.
Nowadays, there are so many different makes and colors of boat shoes that you can easily find a pair that won't just fit your existing wardrobe but your budget as well.