HBO's Game of Thrones showed us how awesome it can be to hang out in a castle, drinking mulled wine and forcing fine feathered friends to carry out our bidding.  Well, maybe it didn't focus on the awesomeness part, per se, since most castle denizens in Westeros had loads of other shit to worry about, but what if you could sit back and relax in a remote castle somewhere without having to concern yourself with bratty wannabe kings and White Walkers from beyond the Wall?
Peckforton Castle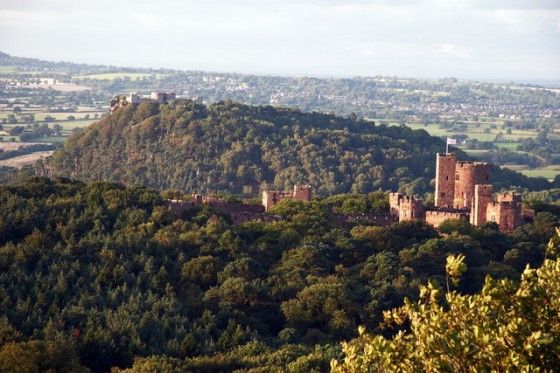 Peckforton Castle is beautiful 19th century, medieval style castle nestled in the forests of Cheshire, complete with gatehouse, portcullis, and moat.  In the past, it's been used for filming movies and TV shows like Robin Hood and Dr. Who.  Luckily for us, it's now open for day or overnight guests to explore.
Not only is Peckforton a fully functioning castle, the grounds are ready and primed for all sorts of ball-busting activities.  Ever wanted to try archery?  You got it.  Abseiling (rappelling for our North American readers)?  Check.  Air rifles?  Fuck yeah.  But the most unique feature, by far, is Peckforton's "Birds of Prey" collection.

Owls, hawks, falcons, and eagles all inhabit the castle's periphery, and are available for anything from impressive flying displays to cheesy tricks.   For example, the castle offers a service for weddings in which an owl will deliver your rings at the appropriate time in the ceremony.  (Was there ever an appropriate time for an owl to swoop down on your wedding?  Well, now there is.)  For further hilarity, why not purchase a bag of large rats (a steal at £30) to feed the raptors?  (Preferably not during the wedding.)   Sadly, crows don't seem to be part of their stable of terrifying birds.
If you need some relaxing time after your harrowing bird experience, Peckforton Castle also houses a full-featured spa so you can get your massage on before settling in for a classy dinner in the great hall.  What I love about many of the castle's rooms are the huge windows that let in tons of natural daylight, as you can see here.
Even the wine cellar is oozing with style.  Its cylindrical layout around a central column lit softly by candelight is vaguely reminiscent of the Crypts of Winterfell…except with more booze.  This seems like a pretty chill place to relax and relish a glass of wine after a long day.  I wonder if they serve mead.

If you're looking for cheap spa breaks, you could do worse than Peckforton Castle.  After all… Winter is Coming.
Further Information
If you're interested in learning more about Peckforton Castle, head over to their official website. There are plenty of photos we didn't include, as well as event schedules and an information package for people looking to get married. We don't encourage that sort of behavior, but if you're planning to go for it anyway, you may as well do it in the most awesome place possible.