A man's wardrobe is more than a repository for his clothes. It's a window into her personality, his tastes, and even his very soul. Some men put extreme effort into crafting the perfect wardrobe, having an outfit ready to go for every day of the week. Suits, shoes, and trousers are all lined up in an ordered line, and a tie rack hangs in the corner, bursting with different colors and patterns.
But there's more to being a stylish, well-dressed man than clothes: accessories are essential too. In fact, accessories are what make a man look distinguished and elegant. Here are some accessories that you'll actually want to wear.
Wallet
Today's wallet market is all over the place. Some wallets are extremely practical, but not all that stylish, and there are some wallets that are stylish, but not all that practical. There are also a bunch of eco-friendly wallets out there as well as covert wallets, designed to look like folded up pieces of paper (no kiddin').
A high-quality wallet is a must in the modern world. We're constantly taking out wallets in and out of our pockets and, as a result, they quickly get worn down. Look out for high-quality wallets and low prices. If you want to save money, avoid leather and go for PVC instead. Because it is plastic-based, it'll last longer too.
Money Clips
The original purpose of money clips was to carry around large wads of cash in a way that was neat and convenient. With the rise of the wallet, they fell out of fashion for a while. But they soon returned to form after they began to take on the role of a status symbol. Anybody with enough cash to fill a money clip must be doing well.
Money clips are also an event. Because they are so rare, everybody takes notice when they are used. No, they certainly aren't the latest in convenient POS (Apple Pay anyone?), but they are the most fashionable way to store your cash. Men often use money clips on days out to the races or at special events, like weddings.
In many ways, money clips could be considered a new form of jewelry. Yes, you can get cheap versions, but many clips on the market are made from expensive metals, like rhodium and platinum.
A Messenger Bag
Men need some way to carry all their stuff around. The only problem is how. A few years ago, fashion designers experimented with so-called "man bags" but the trend never really took off in the way that fashion experts predicted. Perhaps it had something to do with the fact that men don't want to be feminized?
With that said, there are some tasks for which pockets simply won't suffice. What if you've got to take a folder or a laptop to work? What if you've got some enormous book you need to haul to a college lecture? The solution is a messenger bag, a decidedly masculine and stylish option for men with a lot of stuff to lug around. Messenger bags come in a range of materials, but the most popular are those made from faux leather and suede. Look for bags with stylish buckles and links between the bag itself and the shoulder strap and choose a bag that fits your attire. Messenger bags, unlike briefcases, work best with if you've got a more casual wardrobe.
Socks
Do socks count as clothes? Well, yes, if all of your socks are uniformly black. But socks can be thought of as accessories, especially if you happen to have an excruciatingly boring office day job. Yes, there's nothing quite like expressing your individuality by donning some brightly colored socks and deliberately short trousers so that every time you sit down and cross your legs, your socks are on show.
Cotton socks are the best and the most comfortable. Stripes work well too, as do seasonally appropriate patterns, like Christmas trees or Easter eggs. Take your pick.
Necklaces
Most men wear necklaces under their clothes. There's something about the feel of precious metal on skin that is invigorating. They're also ideal for showing off the body when the weather gets warmer. Chains, like Cuban Link Chains by Frost NYC, come in a variety of different sizes and metal types. Gold, silver – even diamond cut – give off an impression of wealth and opulence. Heavier chains look more masculine.

Cufflinks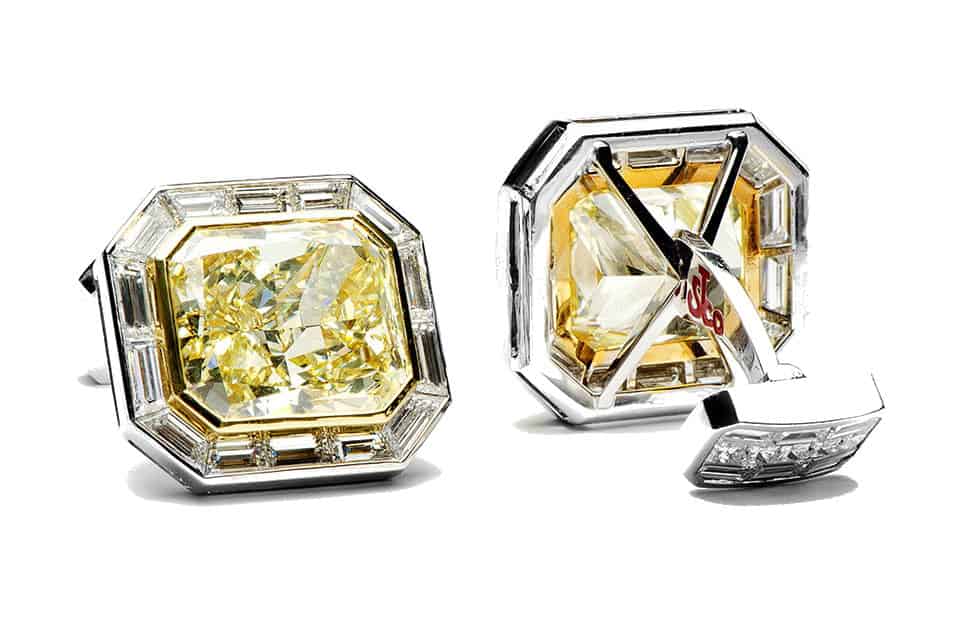 One of the cool things about cufflinks is just how personalizable they are. There are literally thousands of different cufflink designs, sporting everything from the latest designer logos to miniature maps of Britain's 19th Century Empire. Cufflinks, in many ways, are like modern-day watches: tremendously intricate pieces of jewelry that are not only beautiful but a marvel of engineering.
Cufflinks are a must for any man who wants a professional look and to be taken seriously by his peers.
Sunglasses
Are we still too far away from the summer to think about sunglasses? Possibly. But given that it's the low season for sunglasses manufacturers, this tends to be a good time of year to get into the market. Sunglasses have an uncanny ability to add style to practically any outfit. They are a great addition to men looking to accessories their summer outfits on a hot day. Sunglasses can be clipped onto the top of your shirt, or they can be worn on the face (obviously). One of the most common styles at the moment are glasses with aviator frames – not quite Biggles, but certainly a similar effect. When it comes to sunglasses, the frames are important: 1990s rounded plastic sunglasses are certainly not in fashion right now.
Belt
Women have to match their bags with their shoes: men have to match their belt with their shoes. Belts have always been, and remain, an essential part of any man's outfit, smart or casual. Belts help to differentiate the top from the bottom of the body and help out when your trousers are too big for you. Belts can also be used as a statement – especially if you go for a buckle in the shape of the Superman logo.
Accessories are essential to every mans wardrobe, Why not treat yourself to a nice watch strap from Paul Twice it can really make your watch look a lot better.